Development and production of VAP® membrane systems
Trans-Textil's work as a functional fabric specialist involves the development and production of sophisticated textile systems for use in VAP® membrane-assisted low pressure infiltration. Our VAP® membrane systems – the central component in the VAP® approach – are continuously adapted and optimized according to differing process variables and practical requirements, whereby our broad portfolio of semi-permeable barrier layers, the choice of a suitable textile carrier and precise production control enables us to develop flexible solutions tailored to the resin system and process variants involved.

Along with adaptations according to specific requirements, these special solutions broaden the range of possible uses for our VAP® membrane systems still further.




VAP® membrane qualified for aviation applications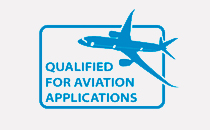 Trans-Textil GmbH, Airbus-licensed manufacturer of central components for the patented VAP® method, has qualified its C2003 VAP® membrane system for aviation applications together with its partners Airbus Deutschland GmbH and Premium Aerotec GmbH. This places a new high-temperature-resistant and practically transparent material on the market for membrane-assisted vacuum infusion in the aerospace sector. The C2003 membrane system, a complete new development by Trans-Textil, acts as a reliable resin barrier for vacuum infusion processes and ensures dependable air and gas evacuation over the entire component surface. Specifically developed for use with certain resin systems at defined temperatures (up to 190°), it is already proving of value in the fabrication of aviation components.



Ready-mades for use in membrane-assisted vacuum infusion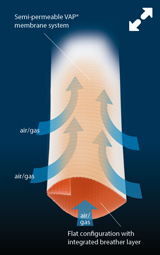 Specially devised to facilitate the vacuum infusion process in intricate components, VAP® 3D ready-mades reliably remove air and gas residues from the matrix around where they are deployed. Thanks also to their semi-permeable characteristics, they support use of VAP® membrane systems over entire component surfaces in exacting fabrication and repair assignments.
Produced with the help of advanced lamination system and coating technologies, the functional multi-layer textile products can be tailored by Trans-Textil to individual requirements in terms of:
• roll length
• width
• material combinations
Coming with a flat configuration and integrated breather layer, VAP® 3D ready-mades leave barely a mark on component surfaces, and are suited for modules of every size in wind turbine blade production, boat building, further industrial applications and aviation.